∞
Attending the Internet Governance Forum - Experience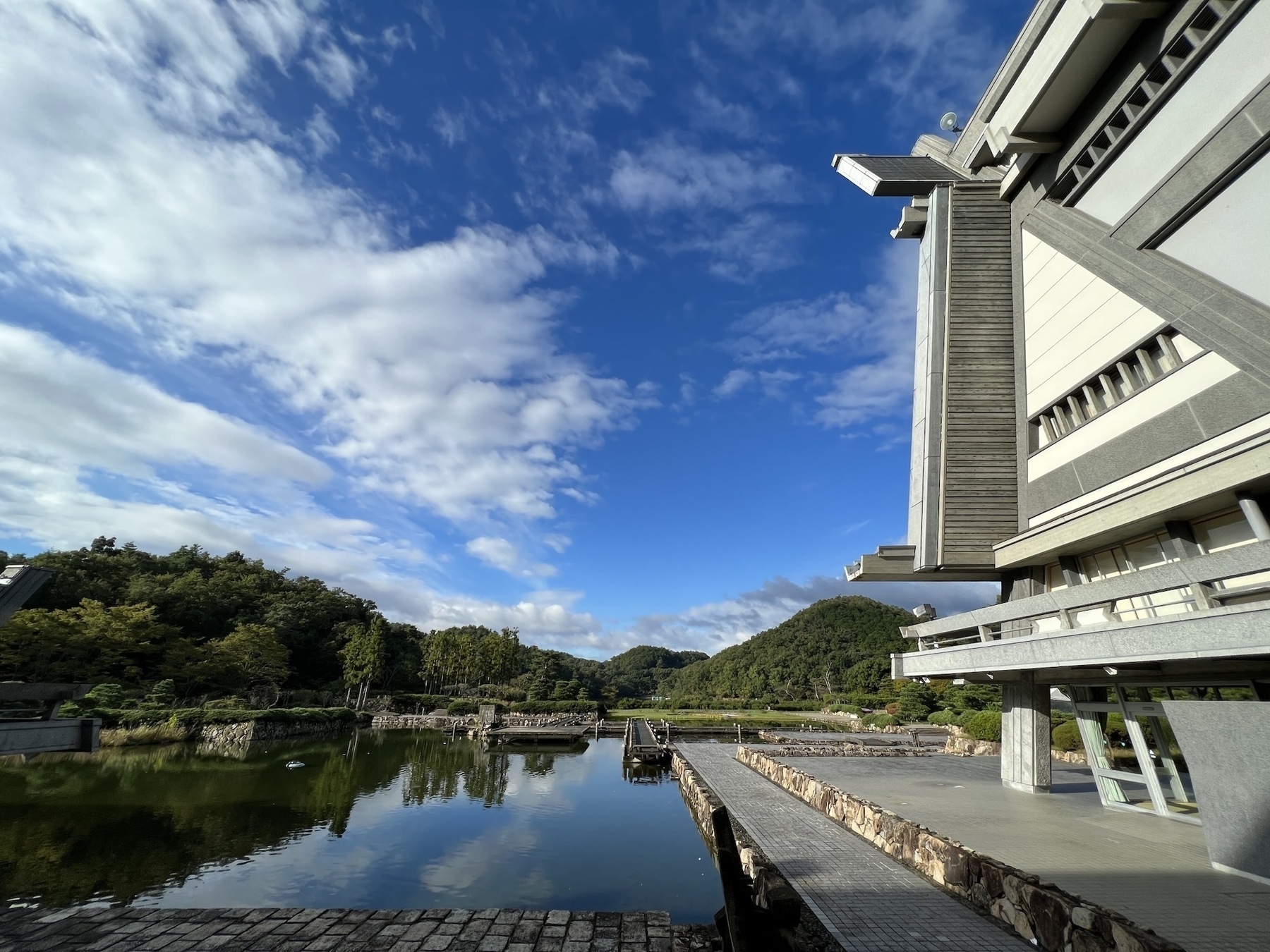 (This is a post in a series about attending the Internet Governance Forum 2023 in Kyoto.)
The Kyoto International Conference Center is a sprawling complex on the north side of the city, at the very last stop of the Kyoto Municipal Subway line. The subway exit features a circular chamber with a 10m wide IGF logo on the floor welcoming visitors. Hallways are lined with posters for the event, and two escalators later you exit to the ground floor and a red carpeted entrance.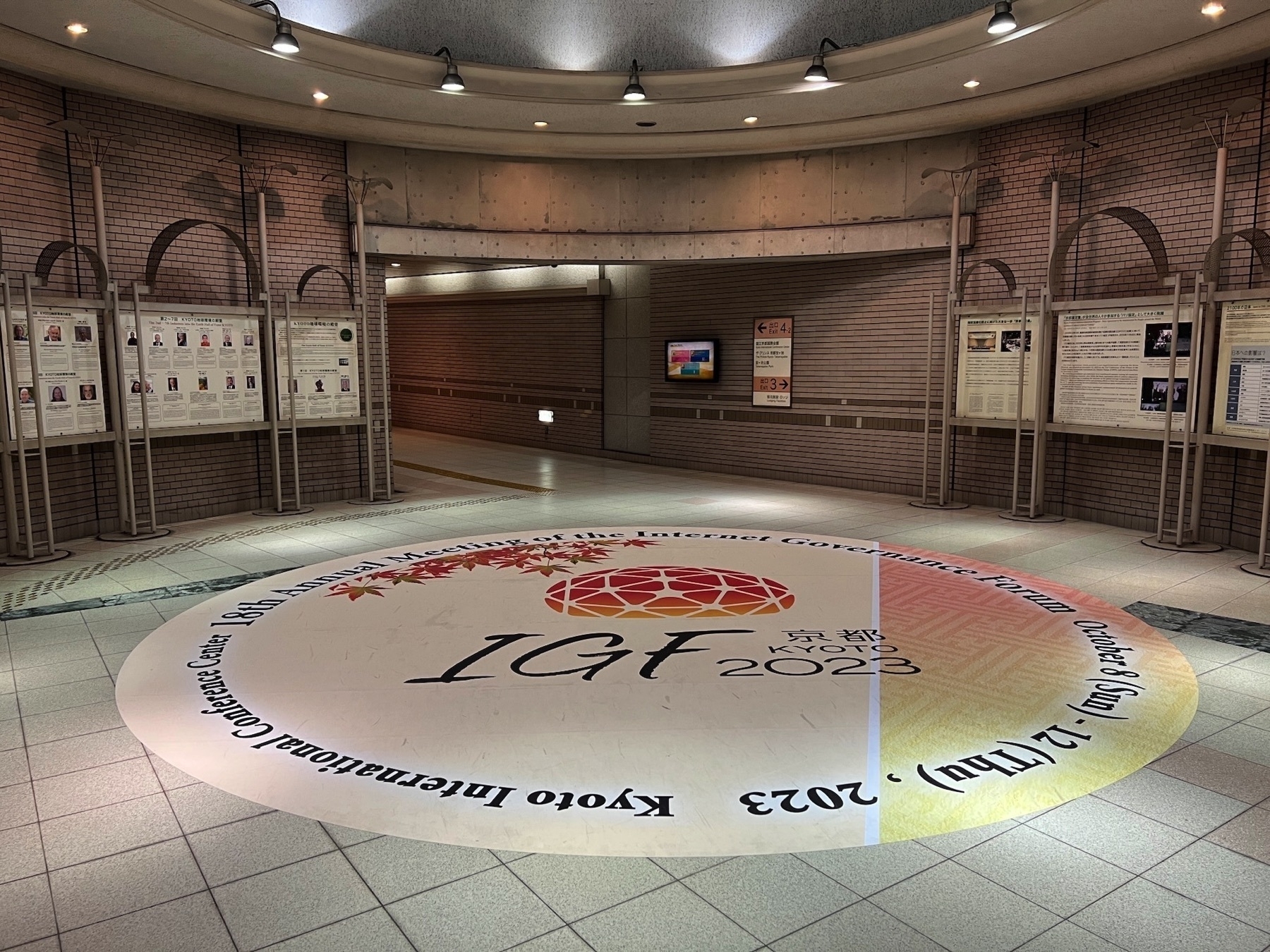 Participants take selfies at a couple of entrance displays before heading into the building and passing through one of about ten metal detectors. On the left of this "new hall" are about thirty booths where you can complete your registration and retrieve your security pass for the five day conference. UN Security personnel augment the facility security, with prefectural and national police positioned outside the building at secure points.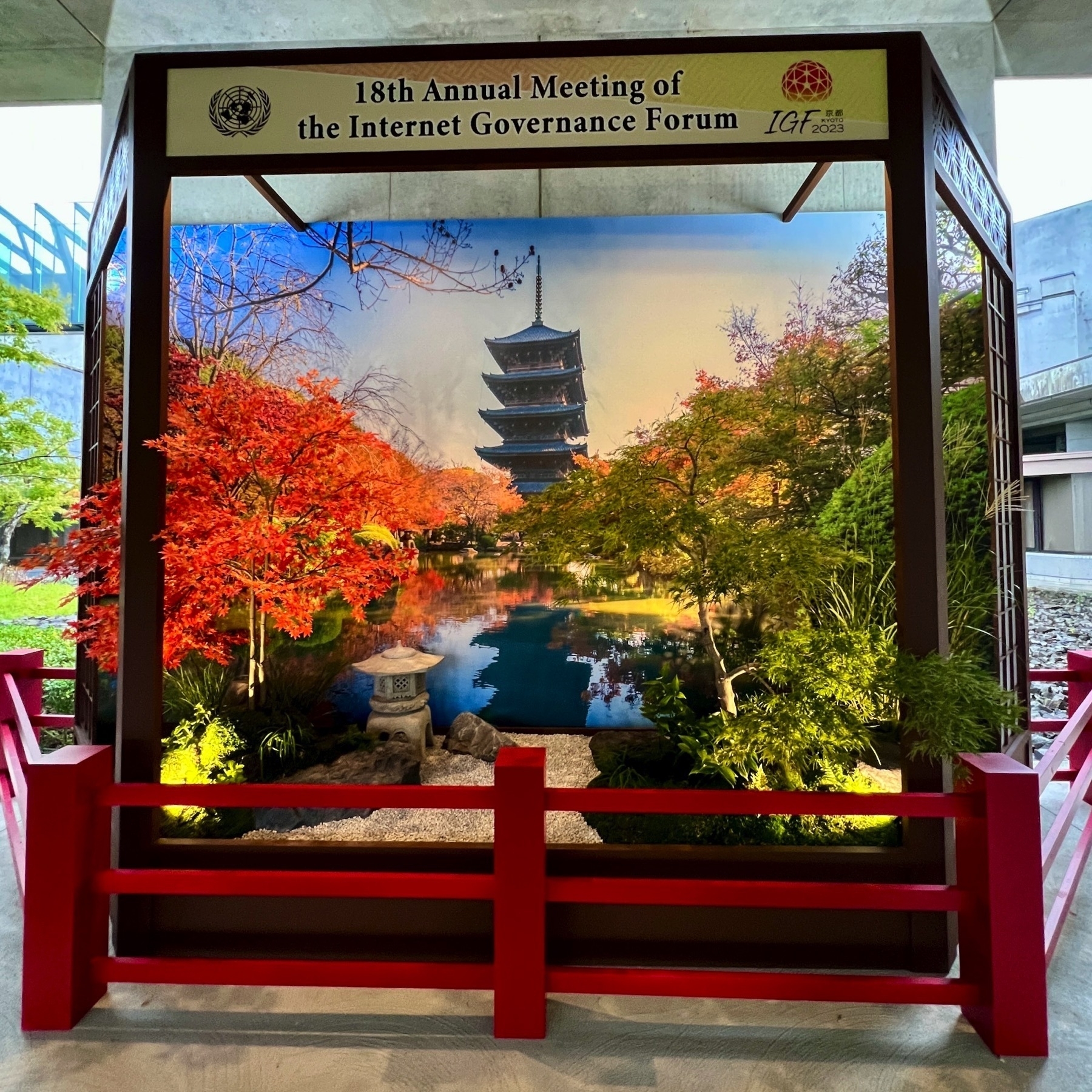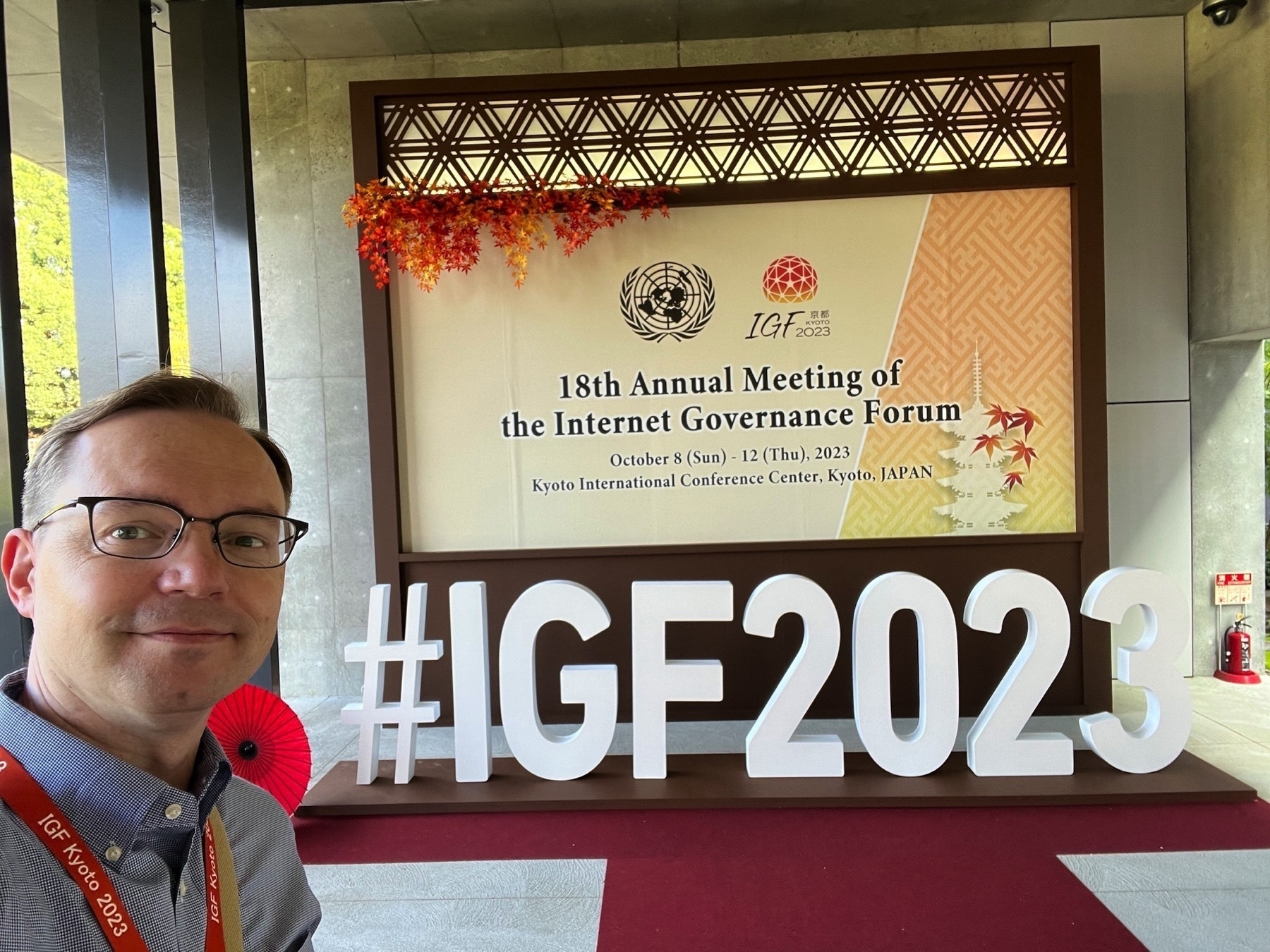 The Kyoto International Conference Center is made up of a number of buildings but at the center is the original concrete building finished in 1966 in the style of Metobolism (a la the Nakagin Capsule Tower that was torn down last year in Tokyo). It has nary a straight wall, with vaulted ceilings that remind me of the shinmei-zukuri architecture on display at the Ise Grand Shrine in Mie (see a trip report from a few years ago).
It was here at the KICC in 1997 where the Kyoto Protocol bound the world in an ultimately failed commitment to lower greenhouse emissions and avoid the climate crisis. Luckily the Internet Governance Forum is a gathering for dialogue, without any mandate for decision-making. This freedom of discussion gives participants a chance to speak their mind and not temper their views in order to release a singular consensus-circumscribed statement.
The schedule of 355 sessions was broken down by a few tracks covering the following themes:
Al & Emerging Technologies
Avoiding Internet Fragmentation
Cybersecurity, Cybercrime and Online Safety
Data Governance and Trust
Digital Divides and Inclusion
Global Digital Governance and Cooperation
Human Rights and Freedoms
Sustainability & Environment
Each of the above themes was its own track, but there were also the cross-cutting:
High-Level Leaders Track
Youth Track
Parliamentary Track
Intersessional Work
Newcomers Track
That is a lot of content! Every room was equipped with a multi-camera setup and a whole A/V staff so you can watch all the videos on YouTube (with Spanish, French, Japanese, Russian, or Arabic simultaneous translation).
Every session I attended started about 10 minutes late. The speakers were all accomplished public speakers, especially notable considering that for many English would be their second, third, fourth, or fifth language. People would float in and out of the room, either checking it out to see if it was worth it, or seeing what they could before having to rush off to another session which clashed on the schedule.
There are many different sized rooms. A session might be in the main plenary hall, which seats 2000, or in a smaller side room shaped like a classroom for only a couple dozen people. Up on the sixth floor were a bunch of boardrooms where the invite-only bilateral meetings were held. There was a whole other conference going on up there.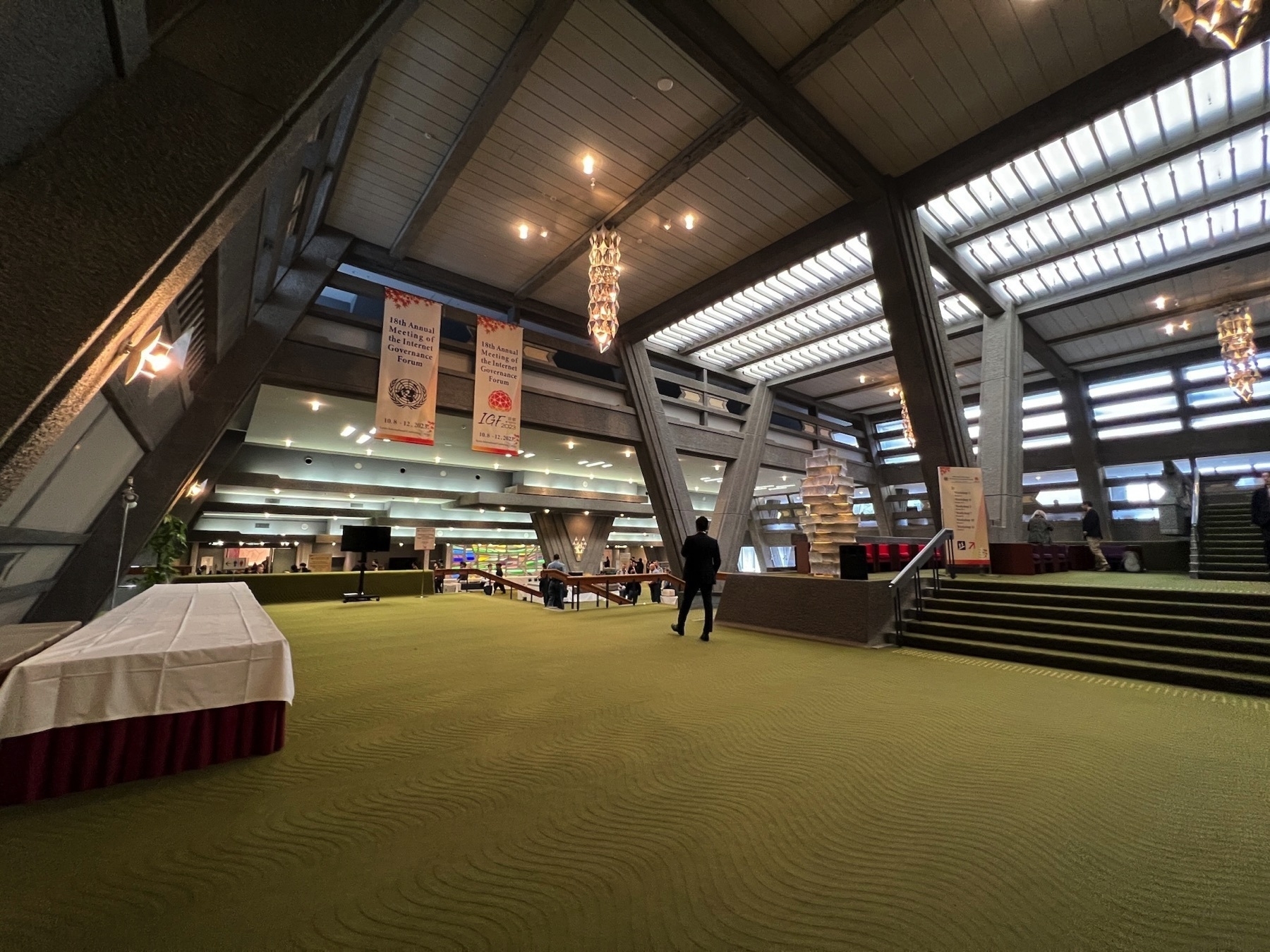 Between sessions people would leave the wood-panelled rooms, cross wide fields of thick green carpet traversing stairs going in every direction past banquet tables laden with silver-aluminum kegs of conference coffee (a very special global brand that might also be the outcome of some international global standards conference decades ago), down one hall and then another, to the Annex or second Annex. At every juncture you were pretty much guaranteed to see a handful of the 6,279 on-site participants perusing large displays of the floor map, packets looking for the best path to their next session.
Attendees came from 178 countries. Many represented in their cultural regalia: you could see sari, topi, gele, and more. I was there as a boring middle-aged white North American in a blue striped buttondown and black slacks. 😅
Along the halls were low leather couches where people would meet, holding paper cups of coffee while deep in discussion in many different languages. Many people seemed to know one another. Or they might be typing into a laptop catching up on work, or even napping on a bundled up jacket catching up on sleep as they suffered jet lag.
At about 11:30, for two hours, lunch was served in the two great dining halls where people would gather and discuss over bento boxes or a plateful of buffet food. There was also a cafe area with an outside patio where people could enjoy the warm October Kyoto weather (and a cigarette… except for that one handsome French guy who dressed really well and smoked a pipe! ).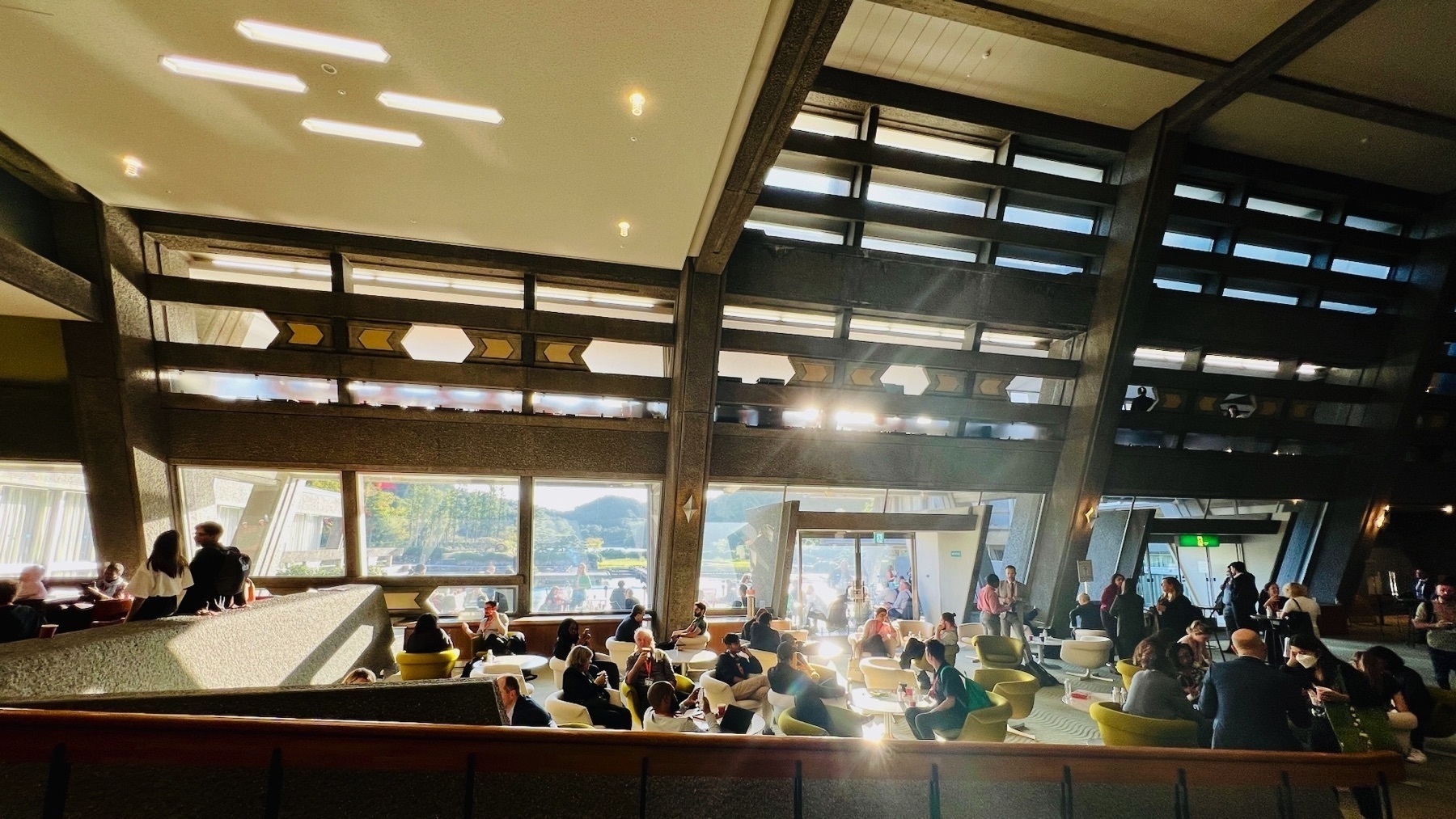 At the end of the day, usually close to 7pm I would trudge back from the Annex, past the garden and by the lounge area, down the main stairs and across the bridge over the canal (with many police standing around on watch) to the Event Hall where all the now empty vendors booths are located, then out the New Hall past the metal detectors and into the cool evening air only to head into the underground for the subway home.
#IGF2023